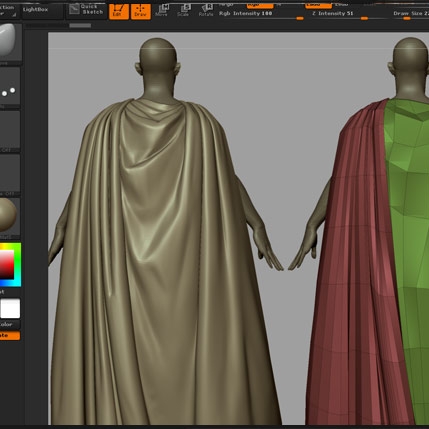 CLOTH DEVELOPMENT VIDEO
Digital download
This bundle will give you the foundation to interpret how cloth works, and showcases specific sculpting techniques in ZBrush to help simplify the form development process.
Includes: Cape Sculpting Lecture - showcasing form development, pipe and diaper folds, and a PDF Artist's Notes study guide to define and understand the seven types of folds.
The ability to create believable cloth is an important part of any character artist's training.
When cloth drapes over an underlying shape, or reacts to wind and gravity, it consistently forms a few basic shapes that showcase its structure. Understanding the basic shapes that are created when cloth reacts to outside influences will greatly improve your ability to recreate and design beautiful and believable cloth. Before we analyze the specific types of folds, it's important to remember that as artists, we are designing our cloth, not just trying to recreate reality. We want to make our cloth look better than reality, but much like other principles of character design, basing it on a foundation of real world understanding is a great place to start.
Artist's Notes (an organized PDF study guide): Defining and Analyzing the Seven Types of Folds
The diaper fold
Pipe fold
Zig-Zag fold
Flag fold
Inert fold
Half Lock
Spiral
Sample Artist's Notes
Includes Video Lecture: Developing and Sculpting Cloth Forms
Follow along in this video lecture that takes you from the creation of a low res poly mesh, through the final cape sculpt showcasing the development and understanding of two fundamental fold types: pipe and diaper. It also discusses cloth design to compliment your character.
Using a poly sculpting software to block in your mesh
Keep the mesh single sided
Pipe fold development
The anatomy of a diaper fold
Tools and Tips for creating clean forms
Secondary form development
Video Lecture Length: 30mins
You may also benefit from
SKULL AND FACE MUSCLES VIDEO
Digital Download
This lecture covers the muscles, bone structure, and cartilage that creates the forms of anatomy for the face and head.
FIGURE RHYTHMS AND GESTURES VIDEO
Digital Download
THE KEY ELEMENT in giving your characters a sense of life is learning the rhythms and gestures of the figure.
This purchase contains FIVE video lectures. 100% of the proceeds from this purchase will be donated to artists on Storymold.
ANIMATION MESH .ZTL AND VIDEO
Digital Download .ZTL .OBJ and Video Lecture
Complete organized body and face mesh. Comes with higher subdivision levels of detail. Separate .OBJ, Artist's Notes, and Video Lecture on creating a production ready mesh.