ANIMATION MESH .ZTL AND VIDEO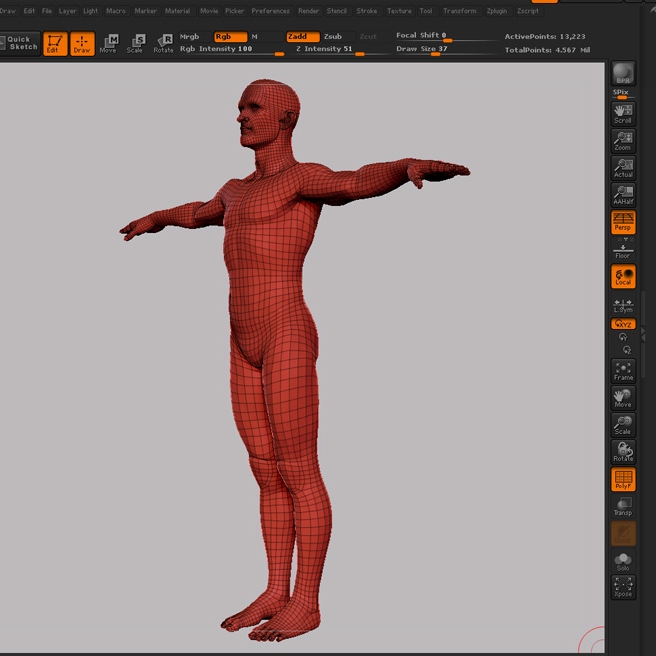 ANIMATION MESH .ZTL AND VIDEO
Digital Download .ZTL .OBJ and Video Lecture
Complete organized body and face mesh. Comes with higher subdivision levels of detail. Separate .OBJ, Artist's Notes, and Video Lecture on creating a production ready mesh.
sale
This is an all quad animation ready mesh. Own the mesh to use as a learning tool, or use it as a starting point for one of your own creations. The .ZTL also comes with the high resolution, neutralized, male anatomy design sculpt.
The Male Animation Mesh represents the standard male archetype.
Use the mesh to study the layout and edge-flow of an animation ready mesh.
The perfect tool to use as a starting point for one of your own creations.
Reference the head topology to prepare your characters to deform properly with blend shapes.
Video: Mesh Layout, Specifics
Run time: Approximately 30mins.
Eye socket, edge proximity, number of spans on eyelid, edge that defines outer edge of eyelid
Lips, continuous edge loop, edge proximity, top to bottom span match
Nasal Labial fold
Leg to pelvis approaches
Hand layout- with fingernails
Bald for hair
Mouth sock, angle, gum intersection, top to bottom lip edge lineup, outer loop to define end of lips
Reading the form
Artist's Notes Sample Page
Notes are continued in the Video Lecture and PDF included with this download.
You may also benefit from
SKELETON AND MUSCLES VIDEO
Digital Download
Covers the major muscle origin and insertion points of the body; a key element in mastering anatomy. We also showcasing how they impact the final form and silhouette of the figure.