SKELETON AND MUSCLES .ZTL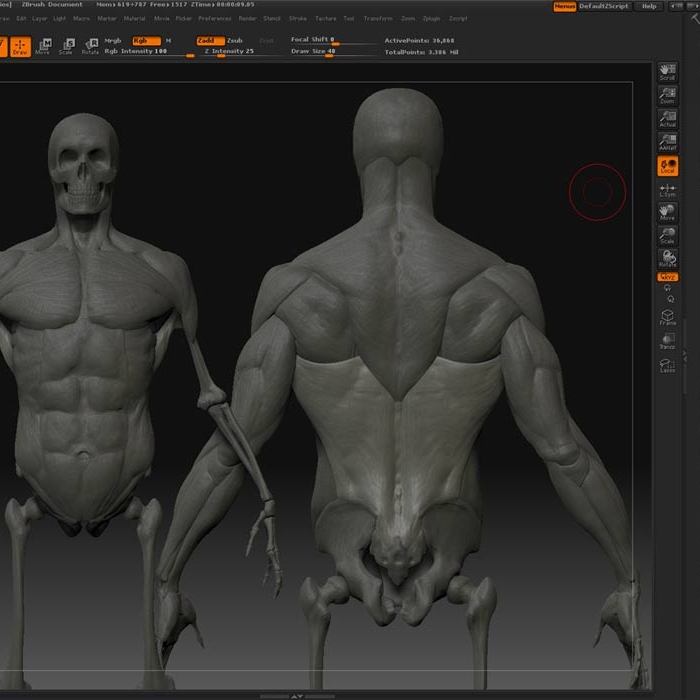 SKELETON AND MUSCLES .ZTL
Digital Download
Includes the complete skeleton and individual muscles of the body.
The Model includes more than thirty subtools, representing all the major muscle groups of the body and the full skeleton. The individual subtools provide an ideal way to learn the origin and insertion points of each muscle group; a key element in mastering anatomy.
Use the tool to study how the muscles create the major forms of the body
Includes the full skeleton
Study how the individual muscle groups effect the silhouette
Build your own ecorche from the included skeleton
Purchase the Lecture to learn how the forms and lines of the muscle groups effect the overall gesture and rhythms of the body
Concept artists, digital sculptors, animators, and riggers alike, will benefit from this one of a kind study aid.
Requires ZBrush software.
You may also benefit from
ANIMATION MESH .ZTL AND VIDEO
Digital Download .ZTL .OBJ and Video Lecture
Complete organized body and face mesh. Comes with higher subdivision levels of detail. Separate .OBJ, Artist's Notes, and Video Lecture on creating a production ready mesh.
SKULL AND FACE MUSCLES VIDEO
Digital Download
This lecture covers the muscles, bone structure, and cartilage that creates the forms of anatomy for the face and head.
FEMALE ANATOMY VIDEO
Digital Download
Follow along to learn the anatomy of the female figure, and form development techniques, as the sculpt is developed from a low res mesh to the final forms.